---
Returns
We hope that you will be truly delighted with your purchase, but there may be occasion where you feel it necessary to return or exchange an item. We aim to keep the process as simple as possible. These terms do not affect your statutory rights.
If you wish to receive a refund, please return your purchase in its original condition: unworn, tag attached and folded carefully inside the tissue paper and packaging it arrived in.
Please enclose a completed Returns Information Form, which can be found on the back of your invoice. Need a new Returns Form? Download one here.
We will refund you any money you have paid for that item (excluding postage) by your original payment method.
Where the returns period has expired, we will be happy to offer an exchange within 28 days up to the value of your purchase.
Certain products and services are excluded from this returns policy, including products that are made bespoke to your order. These items cannot be returned for a refund unless faulty. You will be notified if products you are ordering are excluded from our Returns Policy before your order is accepted by us.
Returns Policy
Exchanges: Please return your item within 30 days of receipt.
Refunds: Please return your item within 30 days of receipt.
DHL Express Returns Service (Optional)
(This service is currently available in AUSTRIA, BELGIUM, DENMARK, FRANCE, GERMANY, GUERNSEY, IRELAND, ISLE OF MAN, JERSEY, NETHERLANDS, SWEDEN, SWITZERLAND, UNITED KINGDOM, UNITED STATES, USA)
For ultimate convenience, book our Express Returns service and DHL International will collect your items for exchange or refund from your chosen address on a day/timeslot of YOUR choosing. We will receive your items within a just a few days and process your exchange / refund immediately. Once your item has been collected:
We will receive your items back within 2-3 days
We will contact you to confirm receipt and that your Exchange or Refund has been processed
For any items to be exchanged, normal delivery charges will apply.
There is a returns shipping fee of US$15.00 per item returned for this optional express service. For example, if you return two items, this will incur a charge of US$30. The return fee will be deducted from your refund, which will be processed immediately on receipt of your parcel. You can of course return items to us using any other method of your choosing to the usual address above.
» Book your DHL Express Return online at https://www.aliestreet.com/expressreturns
Returns Address
If you are arranging your own shipping, then please send your goods for return or exchange to the following address:
Alie Street
Typhoon Building
Oakcroft Road
Chessington
SURREY
KT9 1RH
United Kingdom
Please mark the parcel AND any customs/airway bill forms as
"RETURNED GOODS"
to avoid customs charges or delays in processing your refund/exchange: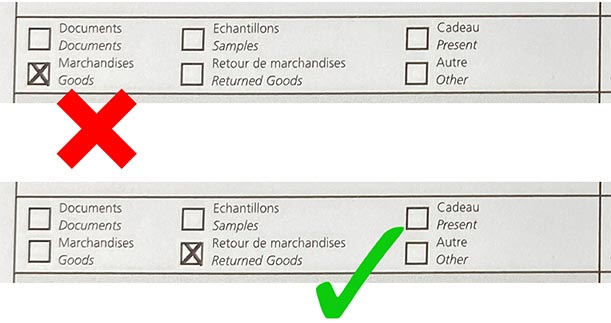 Please retain proof of postage - and we recommend appropriate insurance cover - as we cannot accept responsibility for any items sent by customers that are lost in transit. All items are the customer's responsibility until received by Alie Street.
If you are in the UK, EU or Australia, your refund from Tiffany Rose will include the Sales Tax that you have paid to us on that purchase.
When shopping from other countries we do not charge Sales Tax but you may have paid Import Sales Tax and/or Import Duty to your country's Customs Office via our courier.
Many countries have a process for residents to claim duty/sales tax refunds on imports which are later returned to sender, but we would advise you to check with your local Customs department for more information on this process.