A Tale of Romance
Monday, May 16 2022
Liz and Steve share a truly wonderful story from the moment they met to the intricate well laid plans for their wedding day. They embark on a new journey together with a shared passion for their Yorkshire roots and Liz's childhood in Mexico.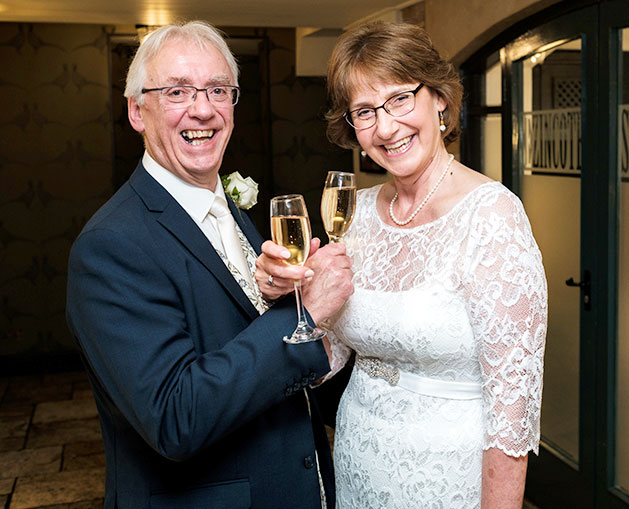 Liz wears our striking yet feminine Lila Lace Gown with matching Aurelia sparkle trim bridal sash.


Where did you both meet?
Steve and I first met just over eleven years ago, in December 2010, having both been previously married (Steve for 31 years and me for 22 years) and recently divorced. I was living and working near Brighton and Steve was doing likewise in Tickhill, near where my parents lived in Yorkshire.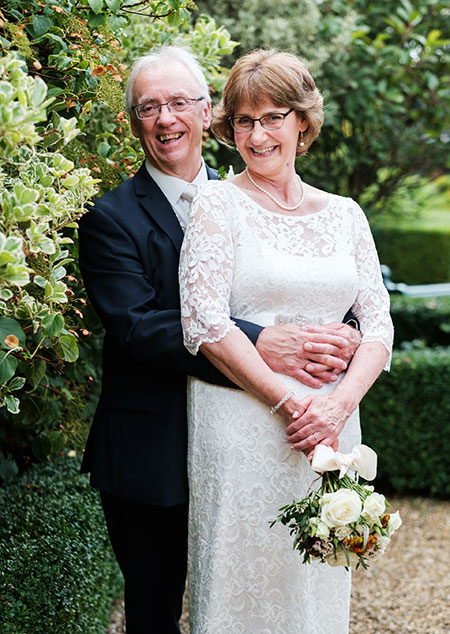 Steve's ex-wife's auntie (!) was my Mum's lifelong best friend and hosted annual Boxing Day lunches for friends and family. I was a regular attendee and in 2010 Steve was there too. We didn't really get a chance to talk, but just as I was leaving Steve plucked up the courage to say hello. Explaining that I had to leave, I returned to my parents' house, 10 doors away, and as I walked in the film "Love Actually" was showing on the TV. A week or so later, Steve asked my Mum's lifelong best friend for my email address and he wrote to me to see if I would like to meet up for a drink when next I was visiting my parents. We arranged to meet on 31st January 2011 at a pub in Austerfield, near Bawtry. It wasn't meant to be a date, just a get-together to see how post-divorce life was treating us. But, as the old cliché goes.....'the rest is history'.


Steve proposed on my 60th birthday when he treated me to a surprise weekend away at the Grand Hotel in York, on 1st September 2020.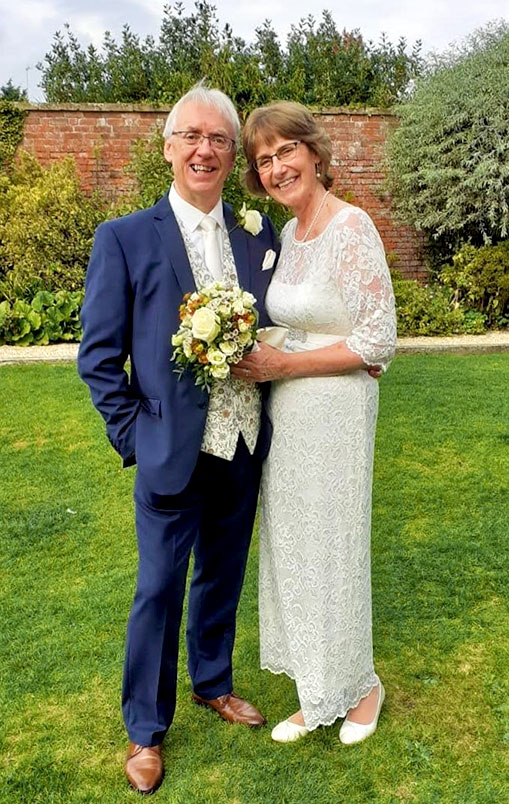 Where did you get married and why did you choose this venue?
We were married on 10th September 2021 at The Manor House Hotel, Moreton-in-Marsh.


We had planned a short break in the Cotswolds for March 2020, an area of the country we both absolutely love. In a twist of fate, our original choice of destination fell through and mere days before the first Lockdown happened, we ended up staying at The Manor House Hotel. The hotel's location and quirkiness, together with the warm, welcoming and friendly staff meant we fell in love with the whole place. When it came to deciding where to get married it was an obvious choice for us to make.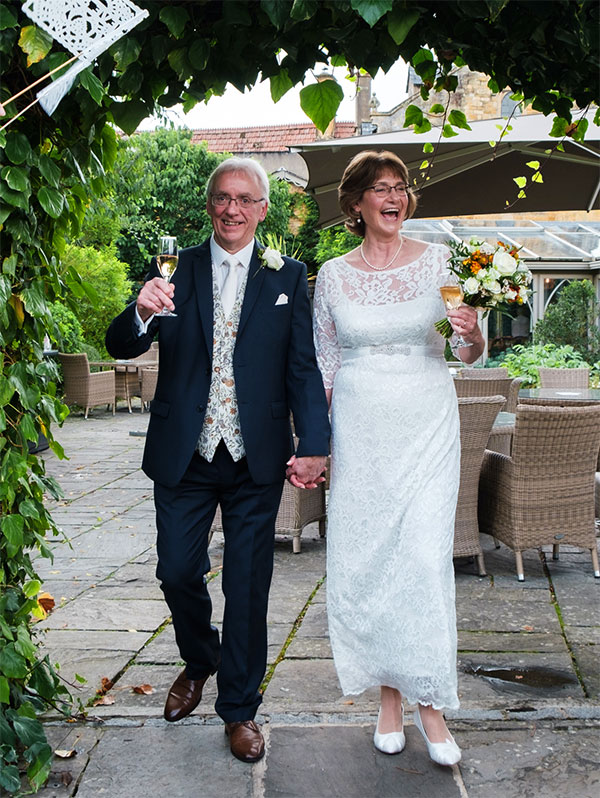 Tell us about the dress!
Last February, I began the search for a dress on the internet because going out shopping was not possible due to Covid restrictions. It was a daunting process given my age, height (nearly 6 foot) and the fact that the last time I did this was in 1986.


When I came across the Alie Street website and found not one, but two dresses that struck me as heartening, my courage was renewed. I ordered both dresses. They arrived as promised within a couple of days. Taking deep breaths to calm the excitement that this was going to be the dress I dreamed of wearing, I tried on the Lila gown. My first choice. It fitted and felt so right that I never needed to try on the second dress.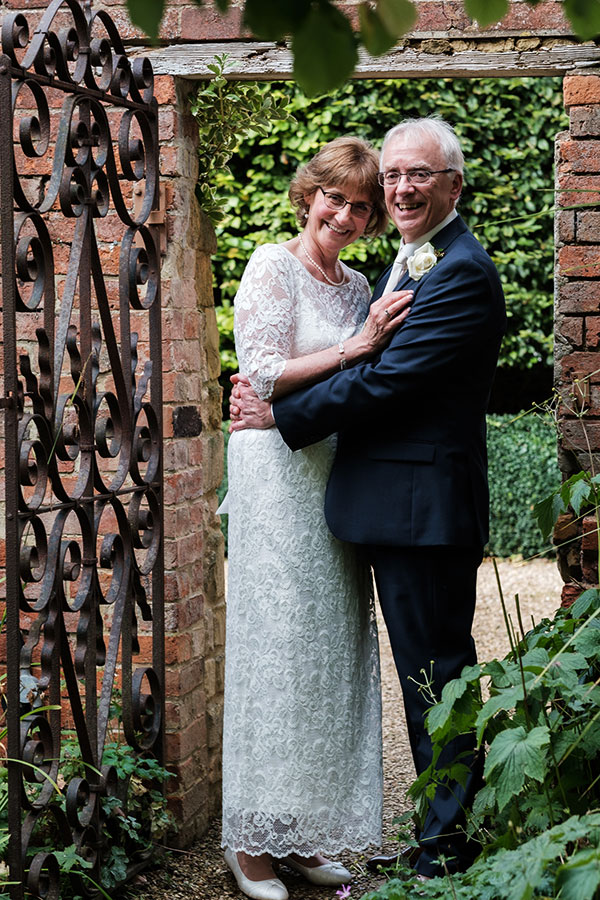 Returning the second dress was so easy and straight forward too. My chosen Lila gown is beautifully made. It is elegant yet understated. It is so comfortable and easy to put on as well. Concerned that I would need to wear it all day and the fear of what would happen if there was an accidental wine spill or tear, I decided to order a second Lila gown as back up, just in case.


Happily my original Lila gown breezed through the whole wedding day, so there was no need to resort to the backup plan. I felt a million dollars and received so many wonderful compliments. My Lila gown made light work of the ceremony, champagne reception, wedding breakfast and dancing to the rhythm of our Mariachi Band right through until Carriages at Midnight.


After the wedding, Alie Street were happy to exchange the backup gown and I am now the lucky owner of two beautiful cocktail dresses as well as my fabulous Lila wedding gown. Thank you Alie Street for making me feel fabulous on my Wedding Day!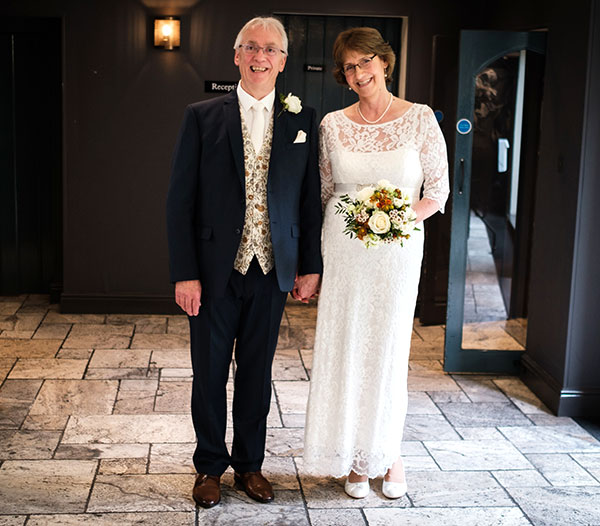 Any advice for future brides planning a wedding?
Most of all ENJOY the whole process from the moment you decide to plan your wedding to the very last moment of your wedding day. Also, I believe it is very important to give as much attention to your Fiancé's wedding outfit as your own. Make sure, you find a wedding planner who understands you and your unique ideas and, who you feel you can trust to guide you throughout. It is a really good idea to take time to address the needs of your guests and what would make them comfortable as individuals, so that they can relax and enjoy the day too. Happy Guests = Happy Bride & Groom.


Any other fun facts to include?
Steve and I prepared all the favours and filled little bottles with our own homemade Damson Gin (made with damsons from our garden).


We also decided to make sure that even the four granddaughters, not only had a non-alcoholic Damson Syrup as favours, but also had sashes on their high chairs.


Both Steve and I are very proud of our Yorkshire roots and, because I was born and brought up in Mexico City, our Wedding Breakfast room was decorated with a traditional Mexican wedding theme and the meal was a hearty Roast Beef dinner with Yorkshire pudding and sticky toffee pudding to follow. The room was decorated with white personalised Papel Picado (tissue paper bunting which was made for us in Mexico) and a Mariachi Band playing during coffee and truffles. We all had great fun smashing our traditionally star-shaped wedding Piñata as the Mariachi continued to serenade our guests, and everyone joined in a Conga around the dining room.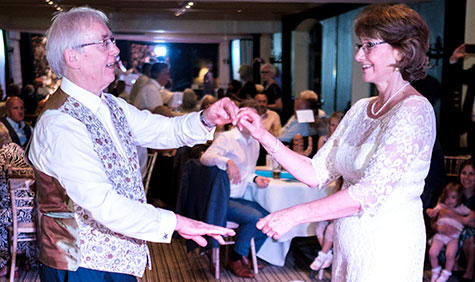 The Star Wars theme took over in the evening with masks, life-sized cardboard cut-outs of Chewbacca, R2-D2, C-3PO and, of course, blow-up light sabres for duelling. We even cut the Yorkshire White Rose design cake with a light sabre.


A life-size cardboard cut-out of Mr Bean stood in the corner patiently letting everyone sign their names all over his suit to record the fun and joy of our Wedding Day.


Get The Look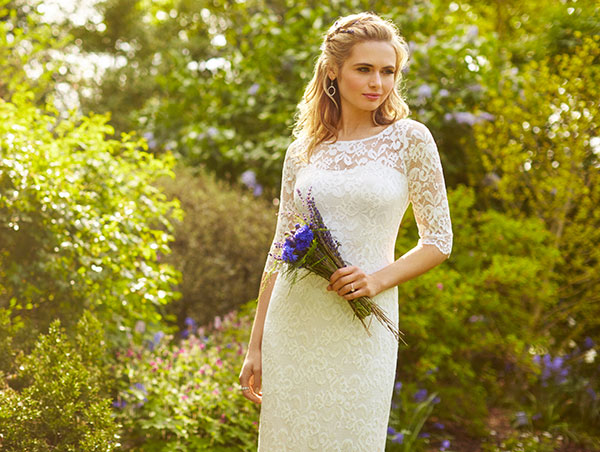 Long on style, this bridal gown is the epitome of low key, high impact glamour. Lila is enduringly beautiful and timeless.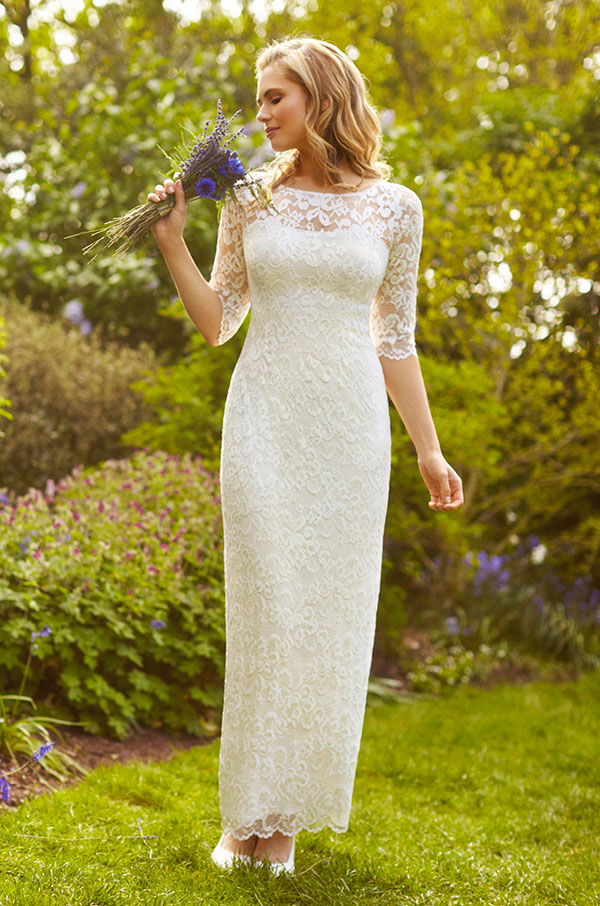 Its full length silhouette can work any wedding day genre with subtle matt and sheen lace and the gently scalloped hem of a fitted, straight skirt. Impeccable comfort is part of every Alie Street design brief, with stretch lace softening its statement silhouette. A go-to gown for sophisticated brides, planning a country house affair.


Categories: #real-life-brides,
« Previous: A Colourful Cyprus Wedding (May, 13th 2022)
» Next: Wedding Bells in New York City (Jun 7th, 2022)
Blog Archive
Made in Britain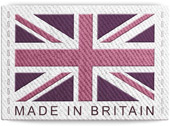 The Alie Street Collection is Designed and Made in Britain
Read more...
Follow Us
Our latest tweets

Twitter
Our latest post
Want a little wardrobe update?? Annie is just PERFECT! Designed to flatter at the waist with a gathered crossover-neckline and fit-and-flare skirt in soft-stretch jersey. 3/4 length sleeves provide extra arm coverage to this neat knee-length dress. #aliestreetlondon #madeinbritain #britishfashion #britishdesign #eveningdresses #occasiondresses #occasionwear #beautifulprints #textiles #floralprints #independentdesigner #smallbusiness #bridalwear #styleinspo #ukfashion #styleblog #bridaldresses #lacedress #lacedresses #laceweddingdress #madeinengland #weddingdressideas #weddinggoals

Facebook