A hectic start to a happy marriage
Friday, October 01 2021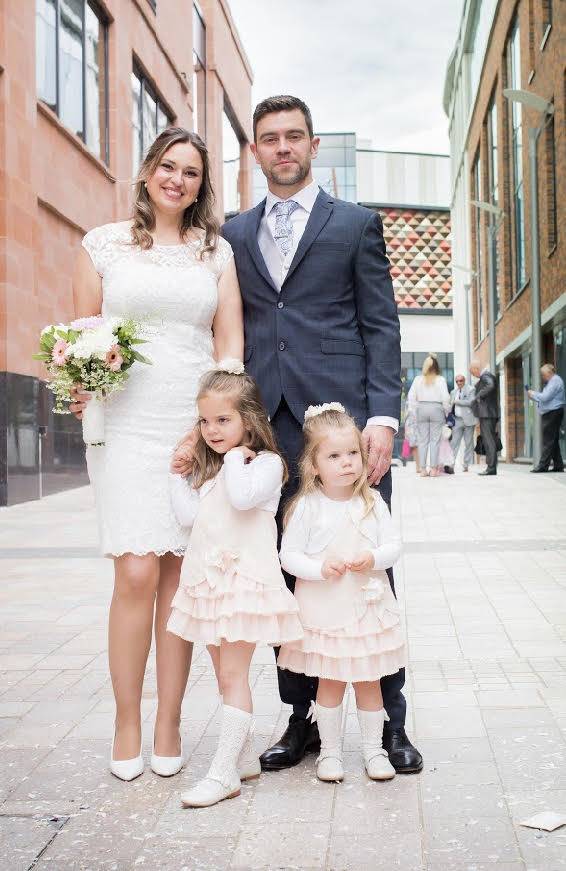 This week's Alie Street real bride features a mum of two who juggled wedding planning around COVID-19, a busy schedule and who's taxi didn't arrive so had to run in her beautiful Alie Street dress to the ceremony! Read more about Ana's still incredibly perfect day – just the first part of her wedding journey.


Where did you and your partner meet?


We met in Sunny Benidorm :)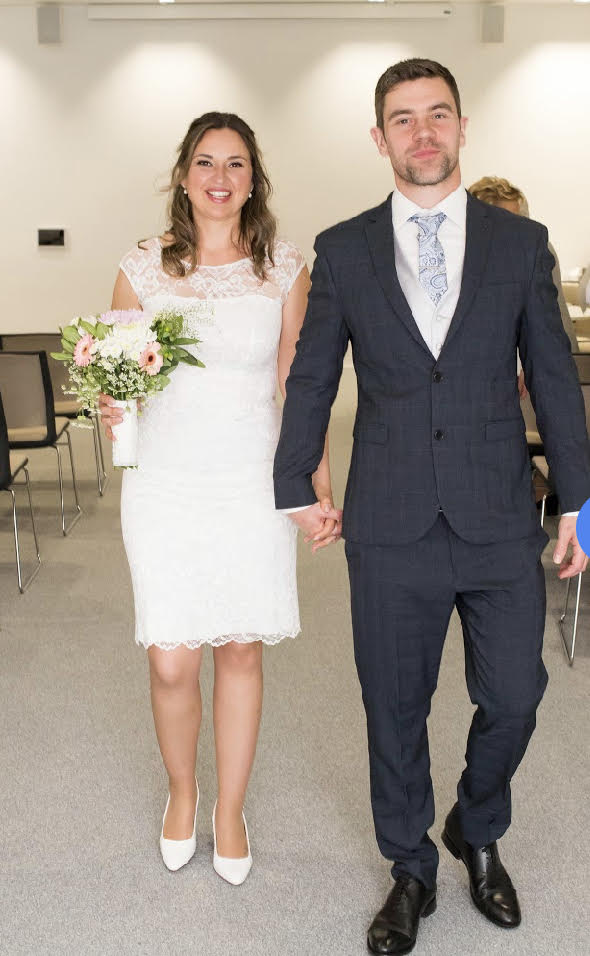 Where did you get married and why did you choose that venue?


We married at the lovely Registry office in Warrington. We are planning a party in Spain when we can, this was only the first part!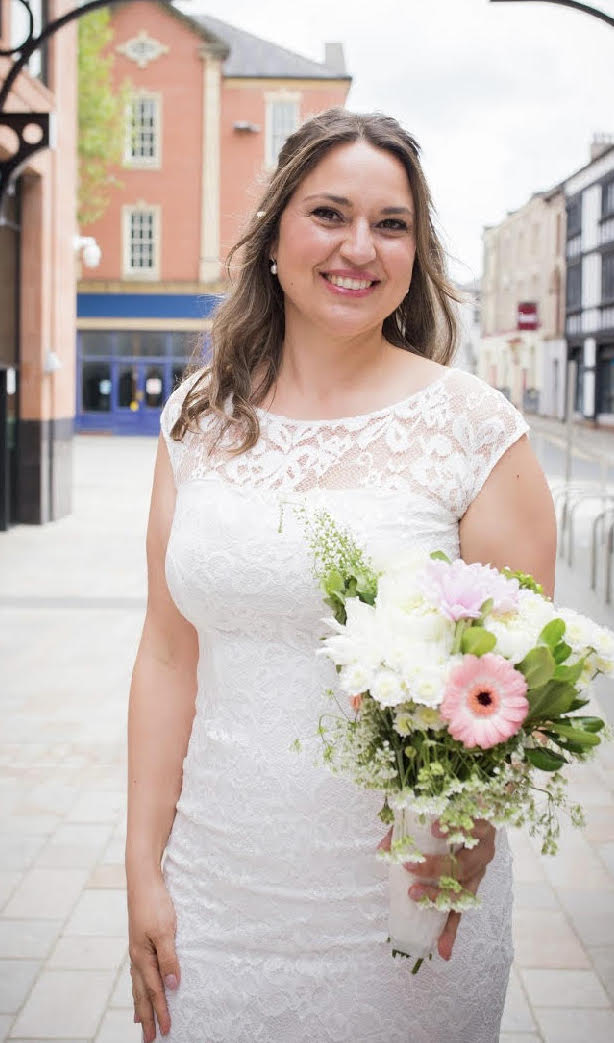 Tell us about your dress!


It took me a while to find my dress because it was in the middle of the pandemic so shops were closed and I had to search online. I saw this one and it was love at first sight, I like the fabric, the colour and it is also really soft and comfortable to wear.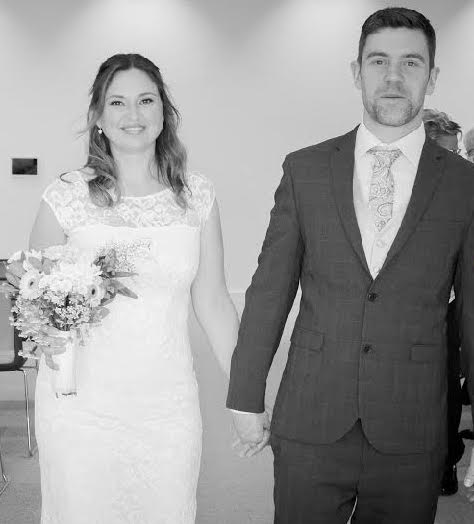 What are your tips for planning a wedding?


My wedding was a really wonderful small celebration. The bouquet was lovingly made by my mum, I did my own hair and make-up. We booked the restaurant one month in advanced. I have 2 little girls and work full time, so had to fit wedding planning around a busy schedule :)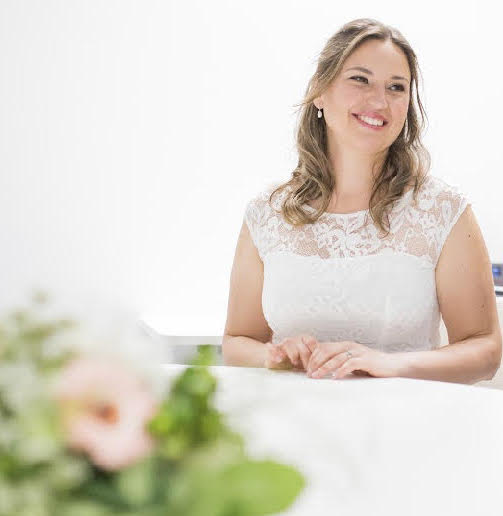 Do you have any fun facts to share about the day?


I had hired a taxi to take me to the registry office and it never turned up! Things were very hectic and I was running late. I had to run towards the register office and the registrar was at the door waiting for me. He said nicely "chill or I won't let you in"!



Love Ana's look?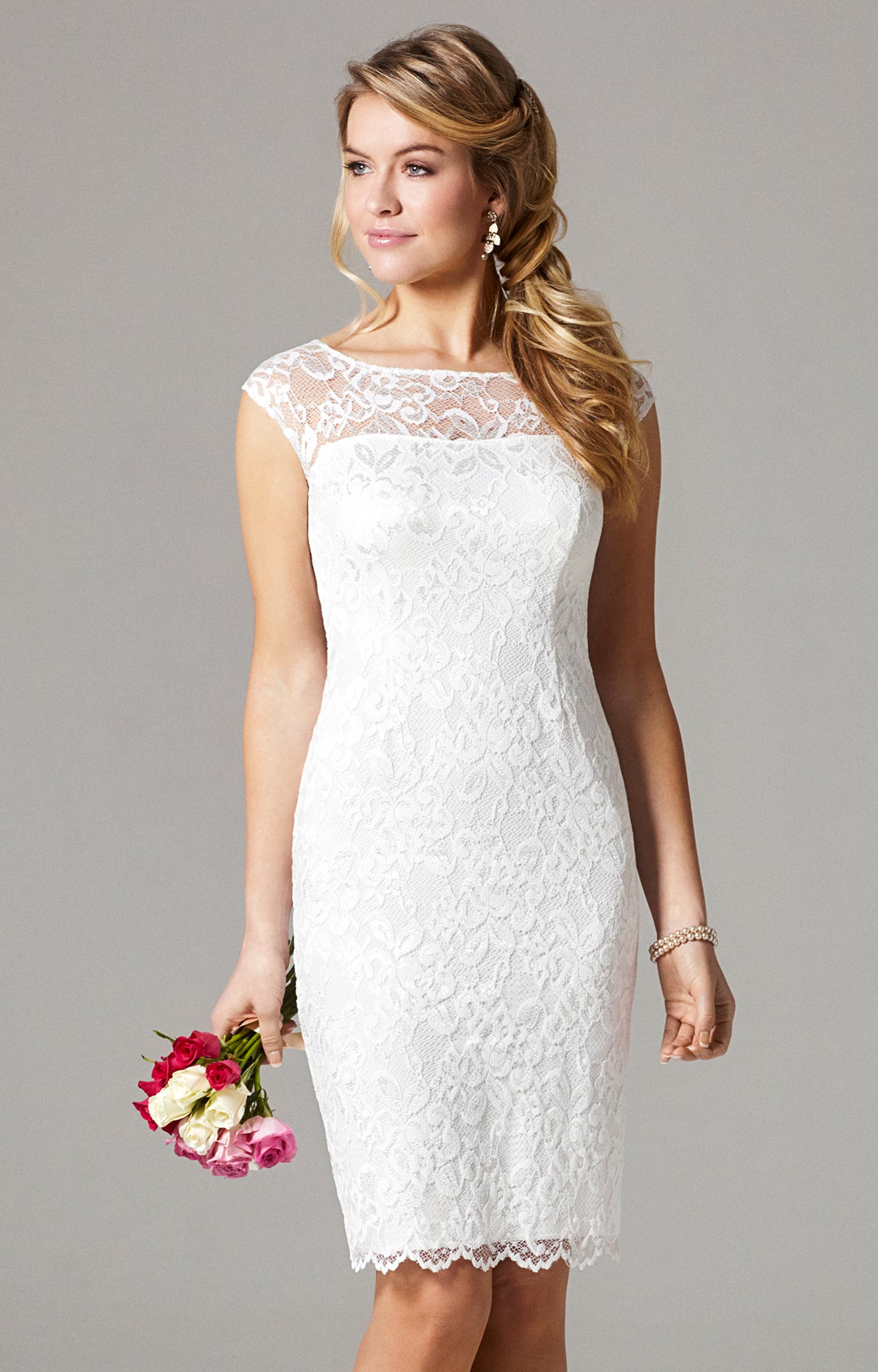 A shift style lace wedding dress to the knee, Amber is a beautifully simple yet smart way to say, "I do". Layers of matt and sheen floral lace are layered over premium Ivory jersey, luxurious and special for your big day. The lining has a subtle sweetheart curve on the bust adding notes of femininity and romance – and a great silhouette. Unfussy but highly stylish with the emphasis on the perfect fit and exquisite fabrics. Amber is the perfect wedding dress for the understated bride, subtly sprinkled with wedding day magic. Perfect for the first of Ana's wedding celebrations – oh and for running to the registry office in of course!


DIY Bouquets


We've been inspired by Ana's marvellous mum making her gorgeous bridal bouquet so much that we've put together a little guide to creating your own DIY flowers. Whilst it's probably the cheaper option, it's also a lovely creative outlet to calm you before the big day ensues. What's more, in years to come you can look back on your wedding photos and feel proud of your handiwork.


The first thing to consider, is the flowers and style that you want to achieve. Be mindful of the season/time of year you're getting married as they may not be available. The style you pick depends on how many different types of blooms you need or the size of the flower. For example, sunflowers, peonies and hydrangea's all have large heads so you may need less. Secondly, source a supplier of the flowers – you might even be lucky enough to have a relative's lovely garden pick your flowers from.


1. Prep your stems and greenery – strip unwanted leaves and thorns.


2. Build the base


3. Add in focal flowers (larger ones)


4. Work in smaller flowers and foliage


5. Snip the stems ensuring they're all the same length


6. Secure with rubber band


7. Disguise rubber band with floral tape, ribbon, or a sash to match your wedding sash.


8. You're good to go!


If you've opted to DIY your own bridal bouquet, we'd love to see it!


If you've recently got married or celebrated a big occasion wearing an Alie Street dress and would like to feature on the blog, contact our customer care team and they'll share details on how!


Facebook , Instagram, Twitter or email our customer service team.

Shop our full range of wedding dresses >

Categories: #real-life-brides,
« Previous: A Secret Garden Ceremony (Sep, 14th 2021)
» Next: Sex & the City - HK style (Oct 5th, 2021)
Blog Archive
Made in Britain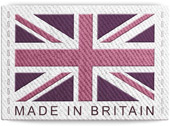 The Alie Street Collection is Designed and Made in Britain
Read more...
Follow Us
Our latest tweets

Twitter
Our latest post
Want a little wardrobe update?? Annie is just PERFECT! Designed to flatter at the waist with a gathered crossover-neckline and fit-and-flare skirt in soft-stretch jersey. 3/4 length sleeves provide extra arm coverage to this neat knee-length dress. #aliestreetlondon #madeinbritain #britishfashion #britishdesign #eveningdresses #occasiondresses #occasionwear #beautifulprints #textiles #floralprints #independentdesigner #smallbusiness #bridalwear #styleinspo #ukfashion #styleblog #bridaldresses #lacedress #lacedresses #laceweddingdress #madeinengland #weddingdressideas #weddinggoals

Facebook