Quick and Quirky
Sunday, August 01 2021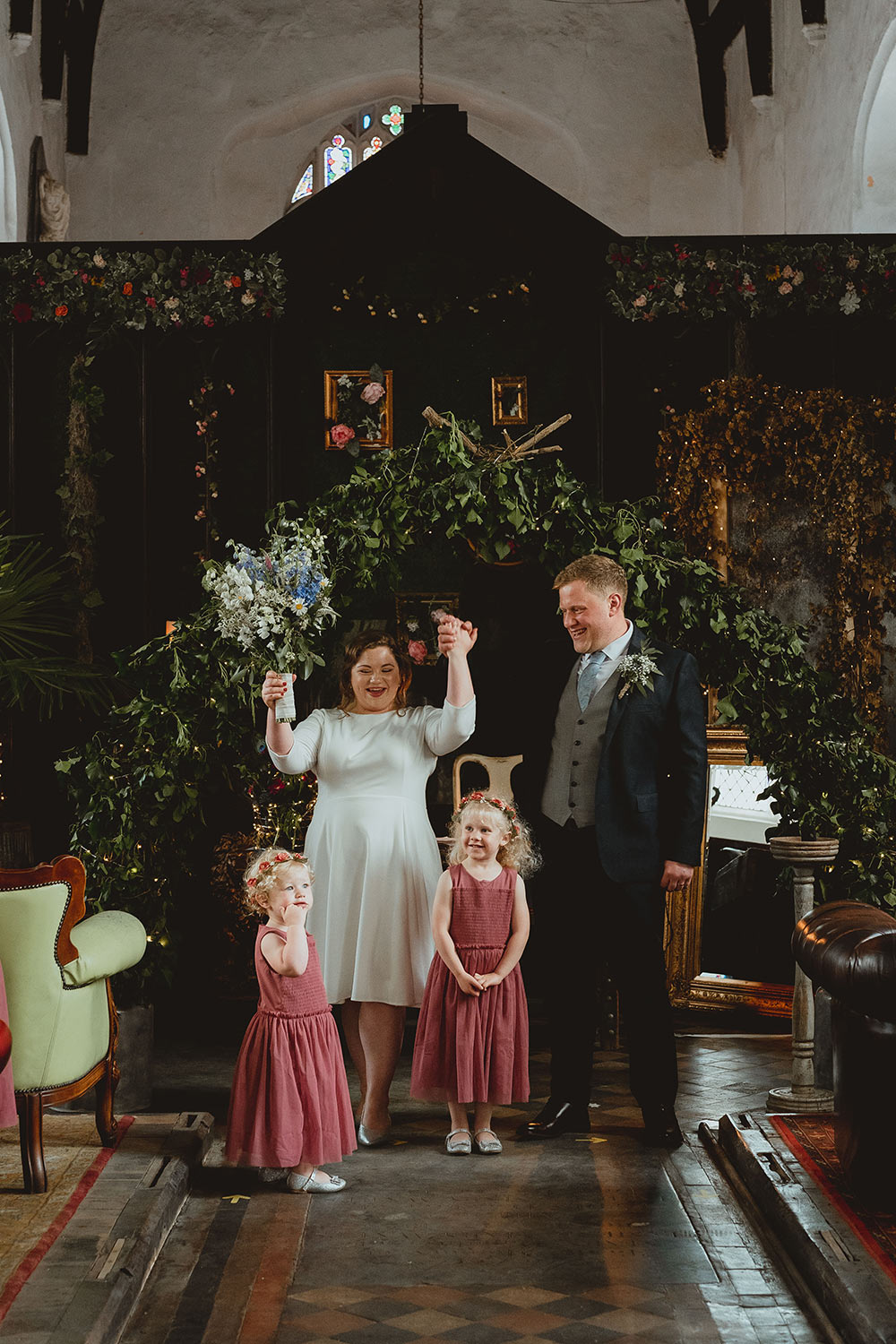 Sally and Dave's beautiful Norwich wedding is the latest in our Alie Street Real Brides feature. The beautiful couple opted for a former church now a non-religious venue named the Flint Room and filled with curated props and vintage accessories, what's more, the whole wedding was planned in just 5 weeks(!!). Sally chose our simple and sophisticated Georgia dress and looked oh so glam! Here's a little more about their day: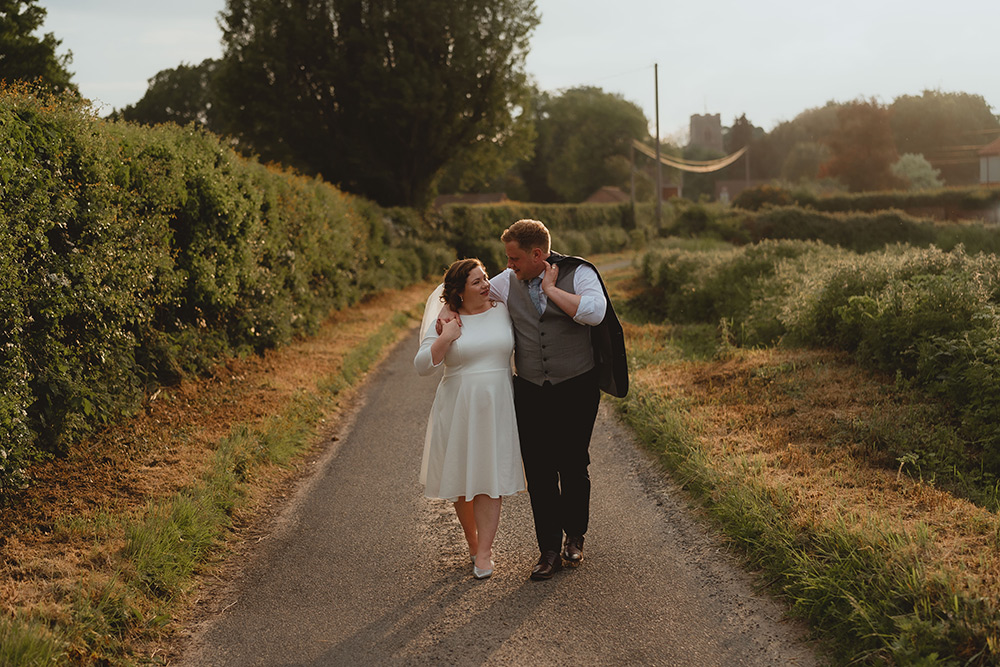 Where did you meet?

We met at a mutual friend's party initially. Dave still lived in Newcastle so we met up when he came to visit Norfolk. Once he moved back that was it!


Where did you get married and why did you choose that venue?


We knew we wanted something laid back for our wedding and after searching for places that would suit us we found The Flint Room in Norwich. The owners were just so lovely and the venue seemed so much fun that we booked it straight away. The place itself is filled with vintage treasures and the pews replaced with quirky armchairs and sofas. It's decorated with plenty of fairy lights and even had little ride on cars for our daughters to play in! There is also a bar inside - handy to have a glass of fizz waiting at the end of the aisle! For our reception we booked a local village hall that has a beautiful view from the patio and luckily the weather was on our side so we got to stay outside all evening!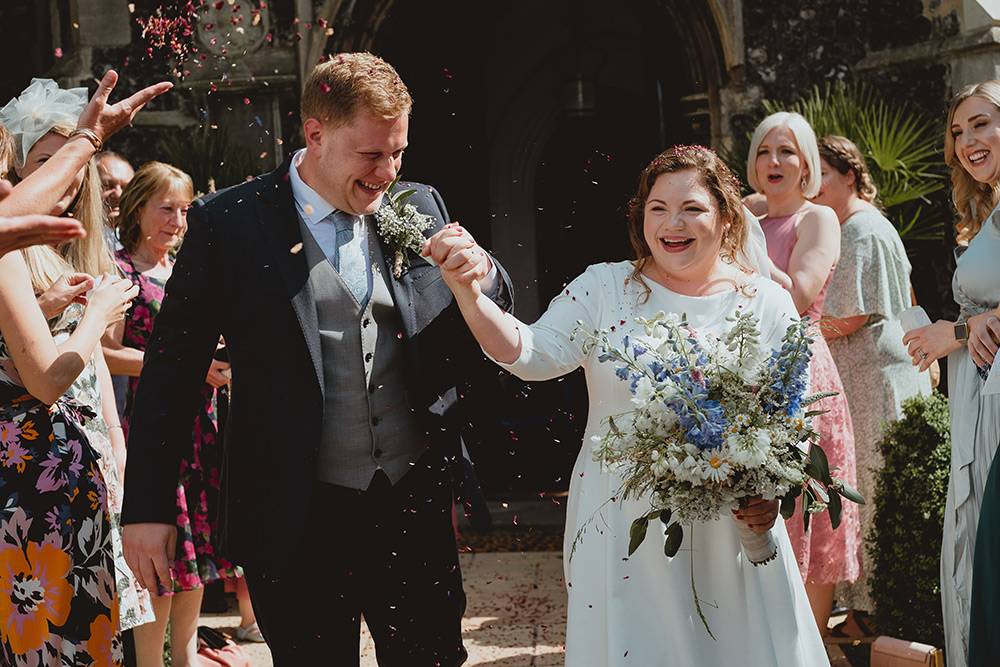 Tell us about the dress!!


I really struggled to find a dress - Covid meant that going to dress shops was proving to be really difficult and I knew I wanted something simple. I came across the Alie Street website and ordered a few to try on but the Georgia dress was out of stock at the time. I actually kept hold of the Annie dress to wear, which is also stunning and such a lovely shape! I thought I had found 'the one' but then on a whim a few weeks later checked the website and ordered the Georgia straight away to try as it was back in stock. I just adored the neckline, the flare of the dress and the pockets! The dress was so well made considering how reasonably priced it is, and the material is such good quality. I had so many compliments during the day about how much it suited me and the day that we had planned. I added a 60s style veil and silver shoes to add to the bridal look. I'm so pleased with my choice!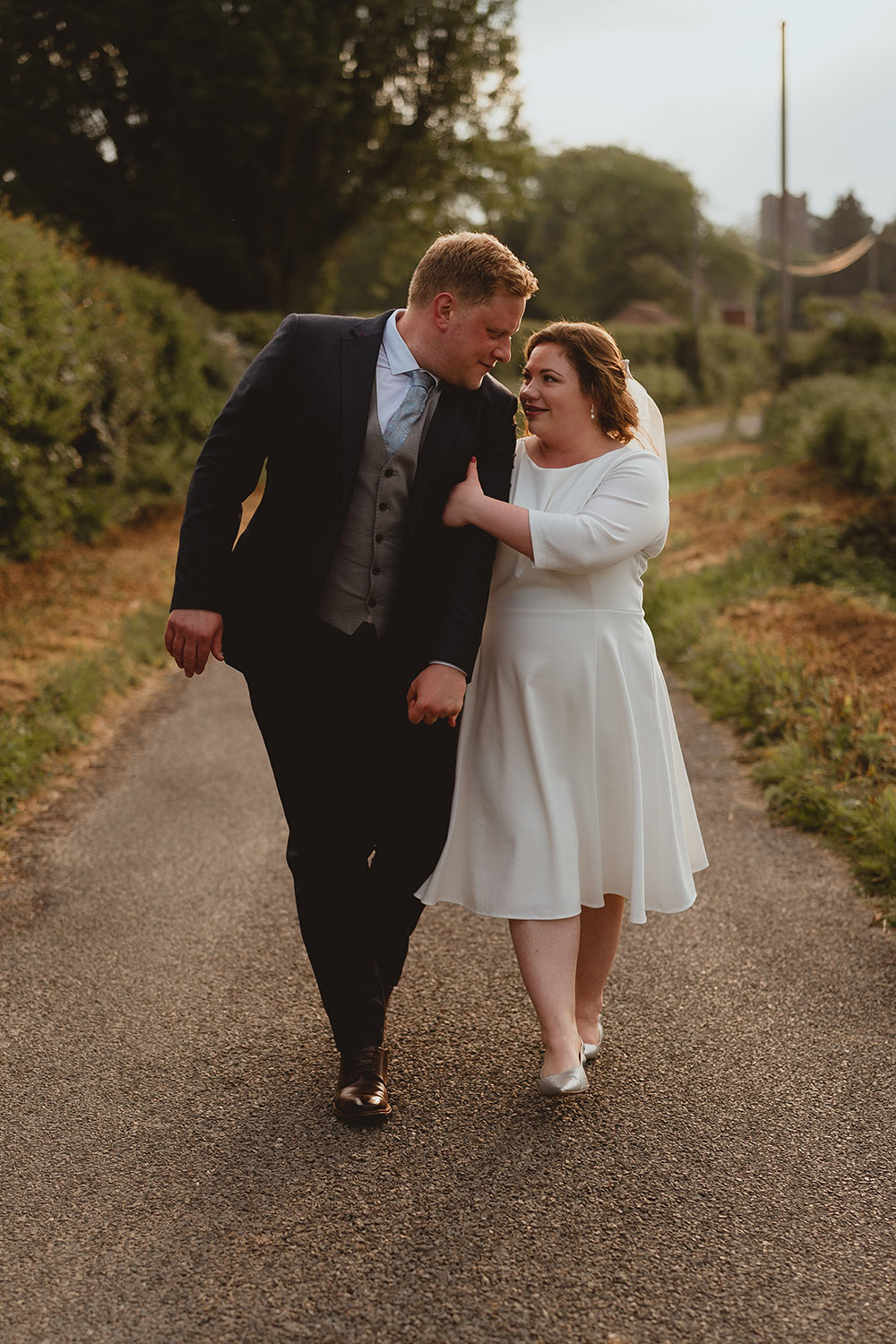 What advice would you give to a bride planning a wedding?


Having now planned 4 wedding scenarios and our actual wedding in about 5 weeks (!) I can honestly say that the main thing is to relax as much as you can on the day. Try to arrange a short amount of time to be with your partner and try not to worry too much if things don't quite go to plan. The day goes by so quickly!


Any other Fun Facts about the day?


Pretty much everything was put together by our wonderful friends and family which made it very special, and despite not having the 100+ people we originally had planned for, the day was perfect. We just felt so lucky to be able to have some friends and family with us to celebrate our lives together.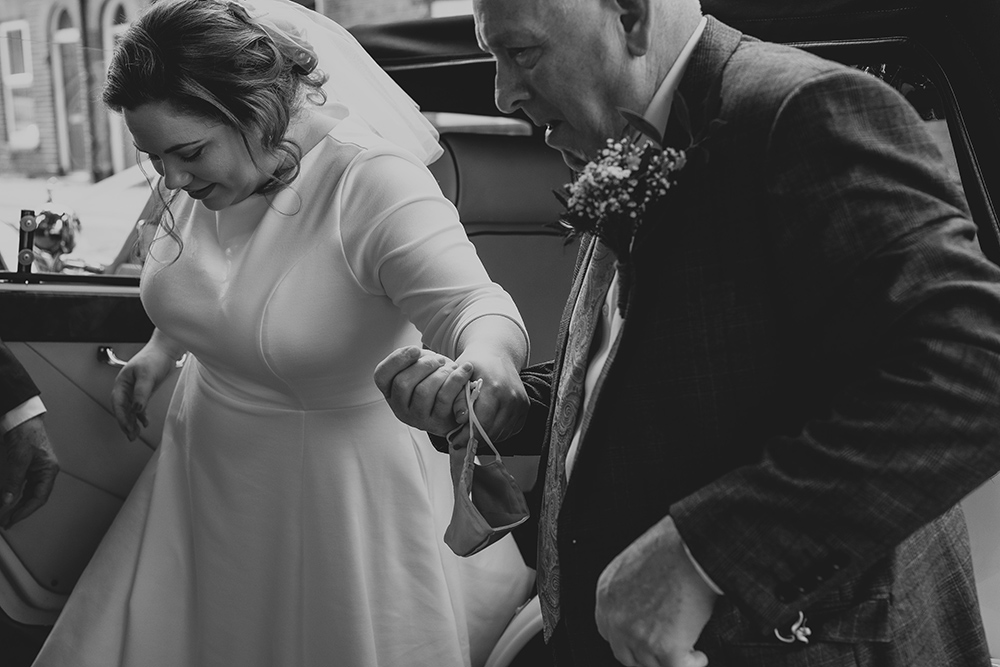 Like to know more about Sally & Dave's wedding? Sally's has been kind enough to supply some of her key wedding contacts with us:


Venue - @theflintroom


Hair - @flamingoamy


MUA - @makeupyourmind.2021


Flowers - @the_flower_shed_thorpe


Photographer - @georgiarachealphotography


A huge congratulations to you both! Wishing you all the best in your married life together.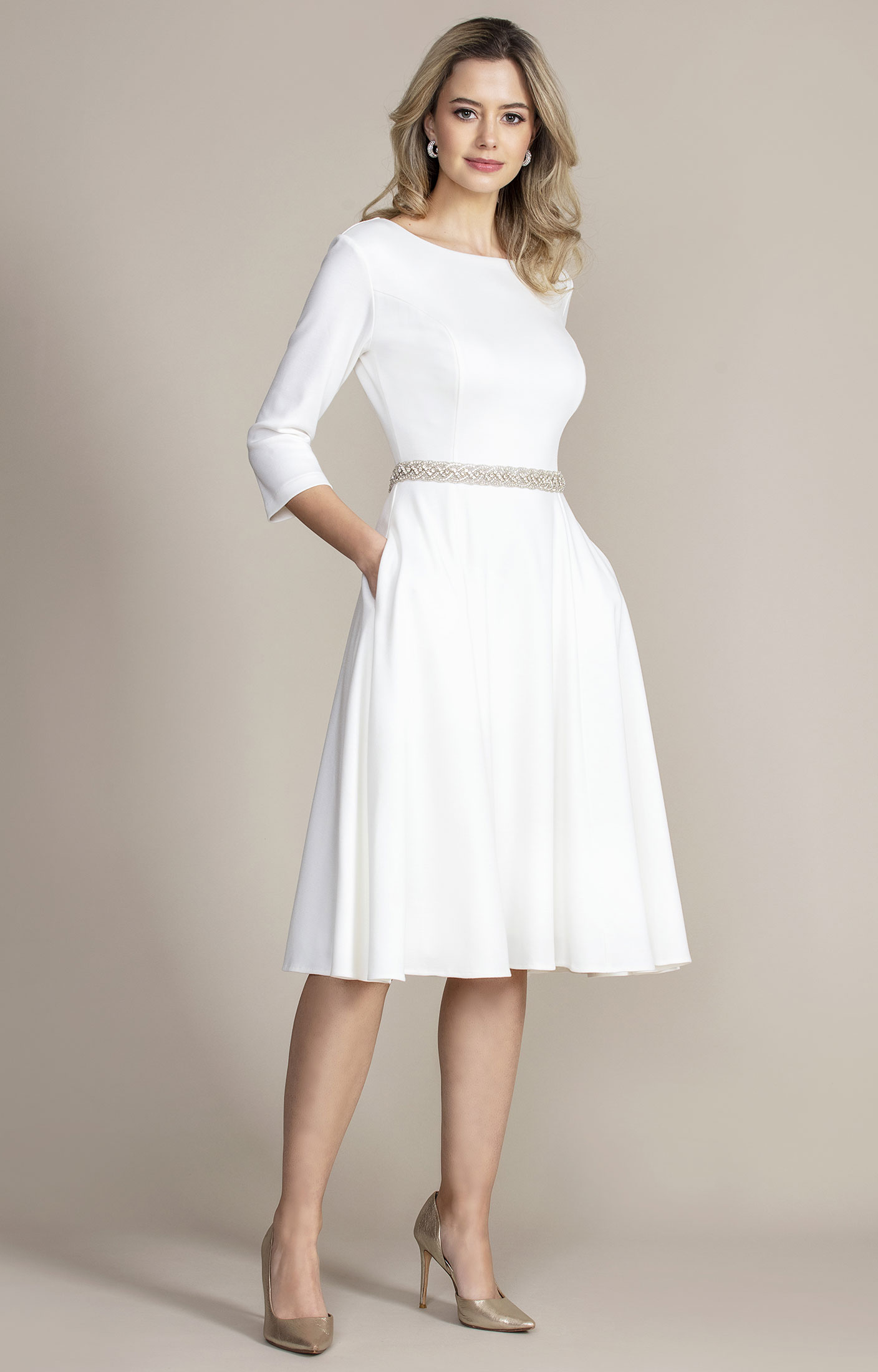 Shop Sally's style:



Sally chose an Alie Street classic. The Georgia dress boasts a boat neckline and fit-and-flare skirt in our exquisite Ponte Roma jersey. Beautifully fitting and designed to flatter, this versatile style will be your favourite feel-good dress. Cut in a gently tailored shape with princess seams to the bust, side pockets and a panelled skirt that floats to the perfect length. We'd suggest these silver metallic court heels to complete the look.



If you've recently got married or celebrated a big occasion wearing an Alie Street dress and would like to feature on the blog, contact our customer care team and they'll share details on how!



Alternatively, share your special moments with us on social:


Facebook , Instagram or Twitter.


Categories: #real-life-brides, #bridal,

« Previous: Going for Gold (Jul, 21st 2021)

» Next: In Love with Lila (Aug 9th, 2021)
Blog Archive
Made in Britain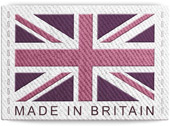 The Alie Street Collection is Designed and Made in Britain
Read more...
Follow Us
Our latest tweets

Twitter
Our latest post
Want a little wardrobe update?? Annie is just PERFECT! Designed to flatter at the waist with a gathered crossover-neckline and fit-and-flare skirt in soft-stretch jersey. 3/4 length sleeves provide extra arm coverage to this neat knee-length dress. #aliestreetlondon #madeinbritain #britishfashion #britishdesign #eveningdresses #occasiondresses #occasionwear #beautifulprints #textiles #floralprints #independentdesigner #smallbusiness #bridalwear #styleinspo #ukfashion #styleblog #bridaldresses #lacedress #lacedresses #laceweddingdress #madeinengland #weddingdressideas #weddinggoals

Facebook