A Colourful Cyprus Wedding
Friday, May 13 2022
Celebrating our latest Real Brides who married in Cyprus where they both live. They chose an All Saints Chapel adorned with stunning artwork representing a modern interpretation of traditional Cypriot painted churches.

Denise wears our Grecian style Havana Wedding Gown in Ivory and our matching embellished Aurelia Sash.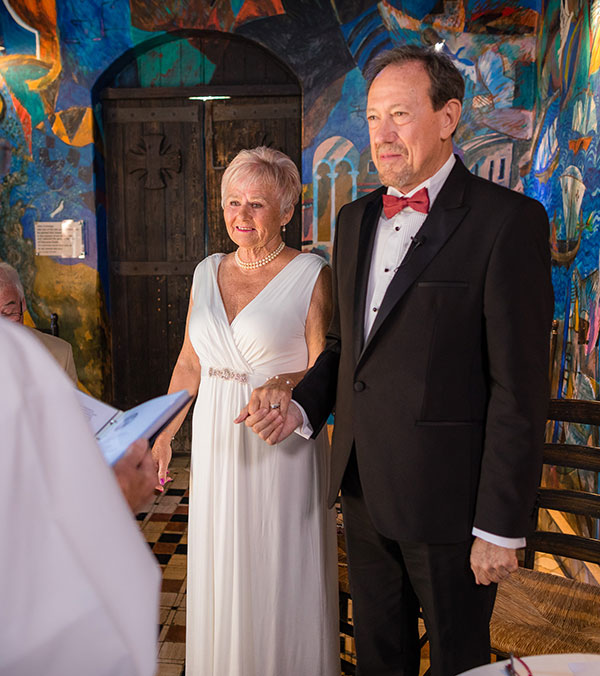 Where did you both meet?
We met at an astronomy group, so you could say a match made in heaven! Our attraction was immediate and magnetic, like Venus and Mars! Domenico paid for my meal when I popped out and when I came back, he suggested I took him out for a meal another time – what Italian charm! A week later I did and we met at Kourion ancient amphitheatre to see a classical concert and started to fall in love under the stars. Two weeks after we were at a modern amphitheatre in Pissouri, smooching to Bridge Over Troubled Waters and that was when we both knew we were meant for each other. I could not believe that I had finally met my soul mate at the age of 66! We were both widowed and used to living on our own so we took things slowly, apart from falling madly in love that is! Eighteen months later we bought a house and started our life living together as a couple. Now, 4 years later, we're married and together forever.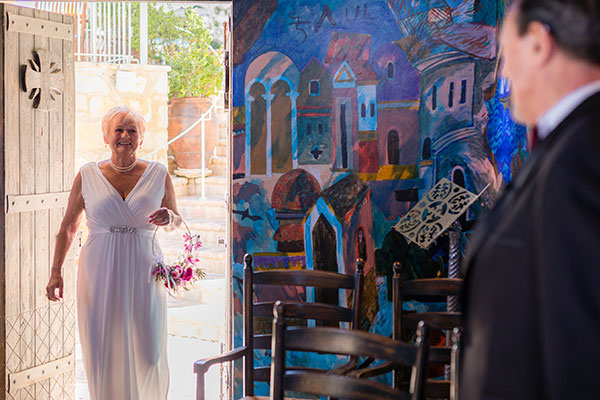 Where did you get married and why did you choose this venue?
We got married at the delightful little All Saints Chapel of the Columbia Hotel in the village of Pissouri, where we live. The fabulous artwork inside is a modern interpretation of traditional Cypriot painted churches and the blue colours are just glorious. Once we'd been inside the chapel, we knew it was the only place for us to get married in. The grounds of the hotel are beautiful and reach down to the turquoise waters of Pissouri Bay. It's idyllic and it was just perfect for us.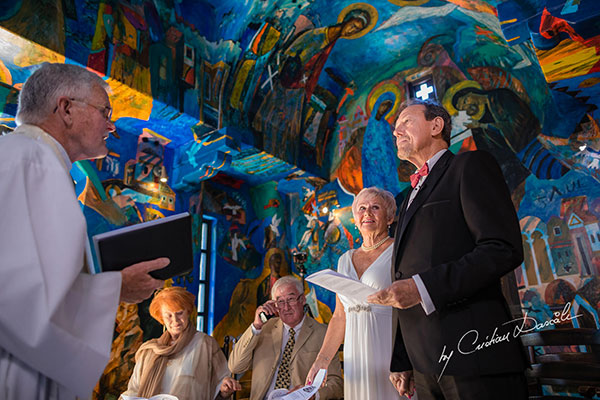 I have to add that we had been planning to marry for over a year, but as we have daughters/grandaughters in Australia and New Zealand, Covid changed our plans many times. In the end we decided we could wait no longer and we'd get married with just our 2 witnesses. We are both 70 this year and are having birthday, and now wedding as well, parties here in September, followed by one in Rome a week later. We hope the antipodeans can make it over for one or both parties, but we also intend to have a blessing in Australia next February.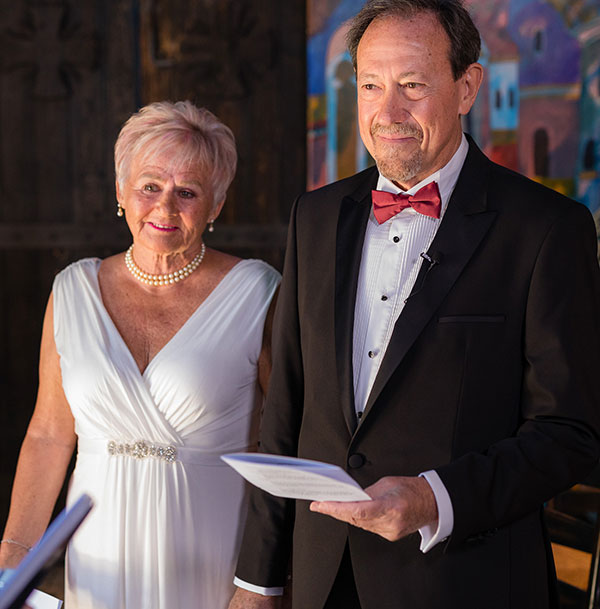 Tell us about the dress!
The Havana dress was just perfect for me and once I'd seen it, like the chapel, nothing else would do! I loved the simplicity and Grecian style, which is perfect for Cyprus of course and it has been much admired by those that have seen the photos. I could not find anything I liked in Cyprus, but importing from UK to here now incurs a 28% import tax due to Brexit and things can disappear into customs for months before clearance. Alie Street offers the most amazing service where they send the dress by courier and pay the import tax, both of which I appreciated very much! The dress is beautifully made and hangs very well. I'll also be able to wear it again with either a black or bright-coloured sash and accessories to match.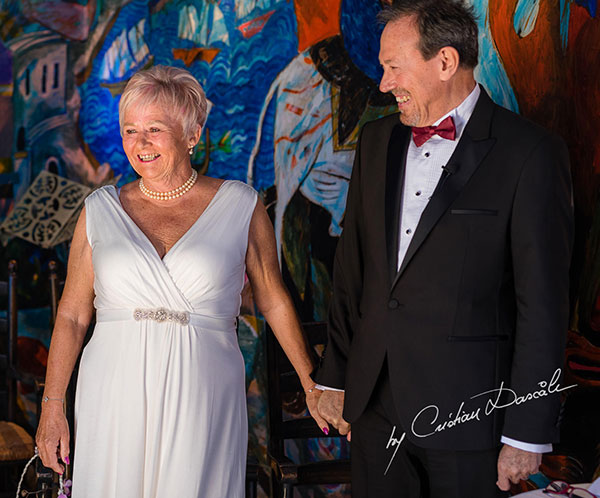 Any advice for brides planning a wedding?
If you are British and want to get married in Europe, allow plenty of time for documentation as it all needs to be apostilled now (due to Brexit). Try the rings on a few times beforehand and put a little oil inside if you need to. Do whatever it takes for you and your groom to feel as relaxed as possible on the day! Change the words of the wedding service if you want to as it makes it much more personal and special. I would advise getting a video made of at least the ceremony. We did mainly because our family weren't with us, but it's been great for us to watch as well as you miss a lot on the day.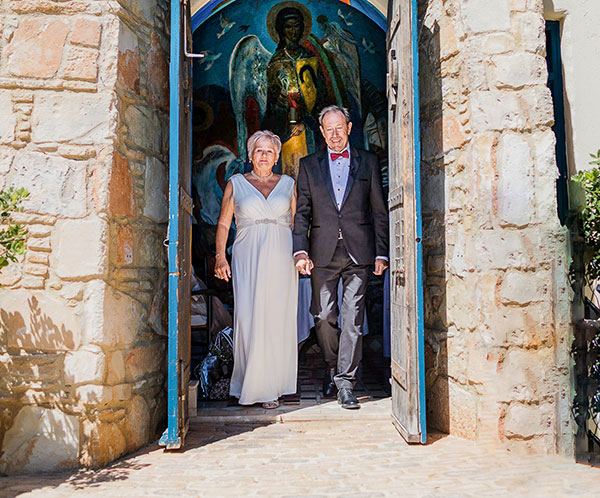 Any other fun facts to share?
As we came out of the chapel, we danced to Frank Sinatra's Fly Me To The Moon as it's the song Domenico sent me a few days after we first met. The dance afterwards enabled us to relax and the music continued the astronomy theme of the heavens brining us together. One month after we met Domenico gave me a ring with a star on it, which you can see in one of the photos. He really is a romantic and passionate Italian gentleman and we both feel blessed to have met each other.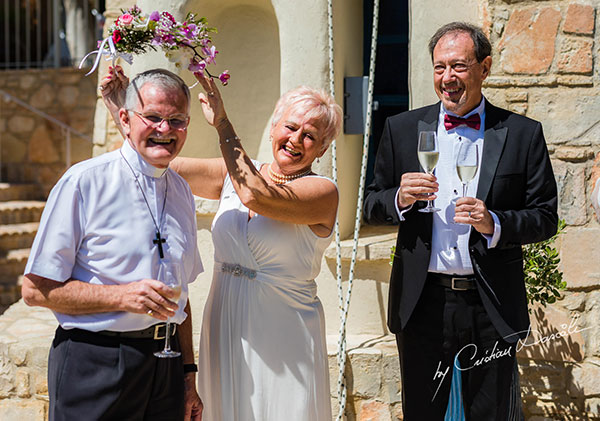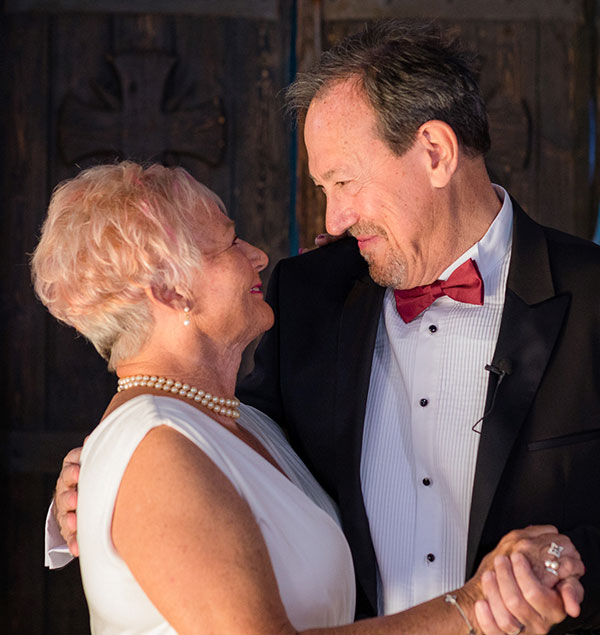 Get The Look
If you dream of a Grecian style wedding dress then Havana is the gown to make your wish come true. Lightweight, ethereal and so special to wear, this statuesque bridal design is an elegant choice with regal details.


Created with soft ivory jersey with a hint of sheen, this elegant wedding design features a timeless cross-over neckline which can be worn on-or-off the shoulders. With gather details across the bodice, its gentle and fluid skirt drapes in soft swathes to the floor.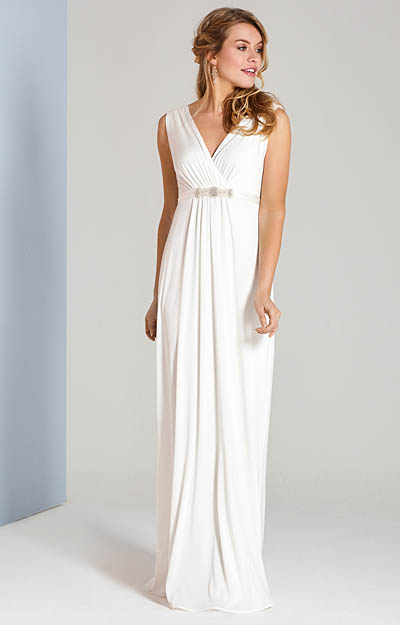 Categories: #real-life-brides, #weddings, #bridal,
« Previous: World Cocktail Day (May, 5th 2022)
» Next: A Tale of Romance (May 16th, 2022)
Blog Archive
Made in Britain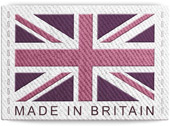 The Alie Street Collection is Designed and Made in Britain.
Read more...
Follow Us
Our latest tweets

Twitter
Our latest post
Want a little wardrobe update?? Annie is just PERFECT! Designed to flatter at the waist with a gathered crossover-neckline and fit-and-flare skirt in soft-stretch jersey. 3/4 length sleeves provide extra arm coverage to this neat knee-length dress. #aliestreetlondon #madeinbritain #britishfashion #britishdesign #eveningdresses #occasiondresses #occasionwear #beautifulprints #textiles #floralprints #independentdesigner #smallbusiness #bridalwear #styleinspo #ukfashion #styleblog #bridaldresses #lacedress #lacedresses #laceweddingdress #madeinengland #weddingdressideas #weddinggoals

Facebook