Sex & the City - HK style
Tuesday, October 05 2021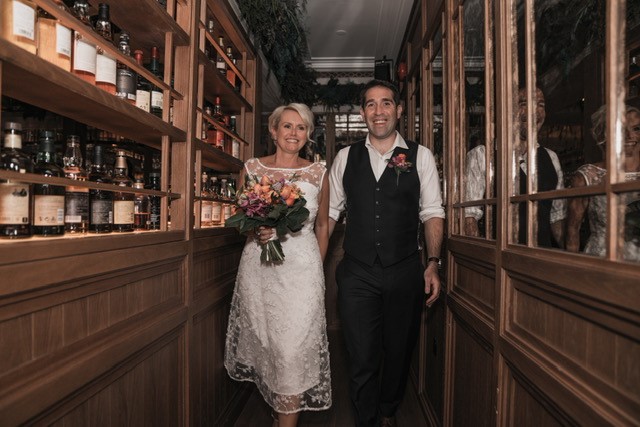 We travel to Hong Kong for this week's edition of Real Brides, whereby we're focussing on the lovely Jo and Tom, who actually tied the knot in just over 3.5 minutes! We think that might be a record… But don't fear, our Azalia Midi Gown was well worn… Once the ceremony was over with, the newlyweds and their guests had drinks at the famous Mandarin Hotel, before sailing/partying off in to the sunset from the harbour! Fascinated by the day as much as us? Read on for all the details: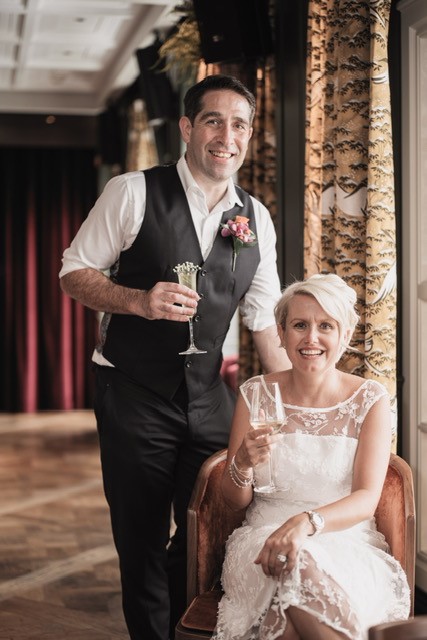 Tell us how you met?


We met in early November 2019, at a bar located in Hong Kong's famous bar street – Lan Kwai Fong! We both remember it very clearly, as it was the final of the Rugby World Cup (England unfortunately lost!)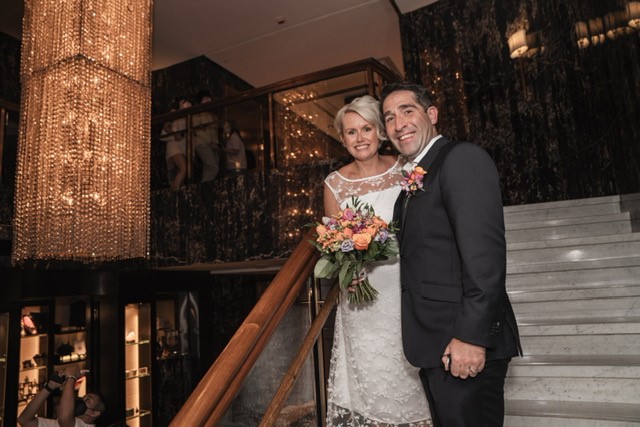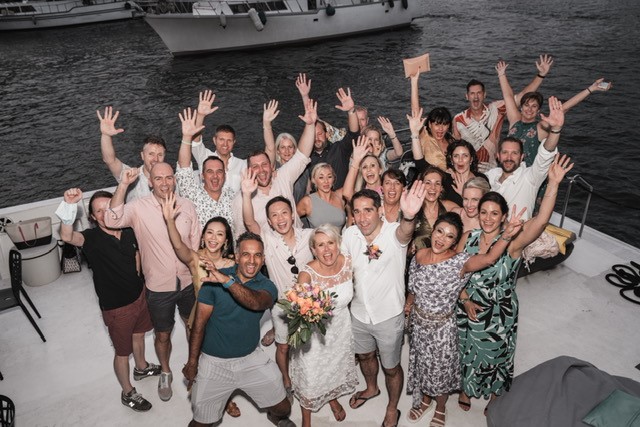 Where did you get married and why did you choose that venue?


We had a very simple (and short 3mins 36secs!) service at City Hall Marriage Registry in Hong Kong, followed by drinks at The Aubrey located within the famous Mandarin Oriental hotel, and then a party on a boat in the evening on Victoria Harbour for all our friends. As we will be leaving Hong Kong in the next 6 months, we wanted each part of the day to be a memory of Hong Kong (I've been here 10 years and Tom, 4) as well as fun and relaxed!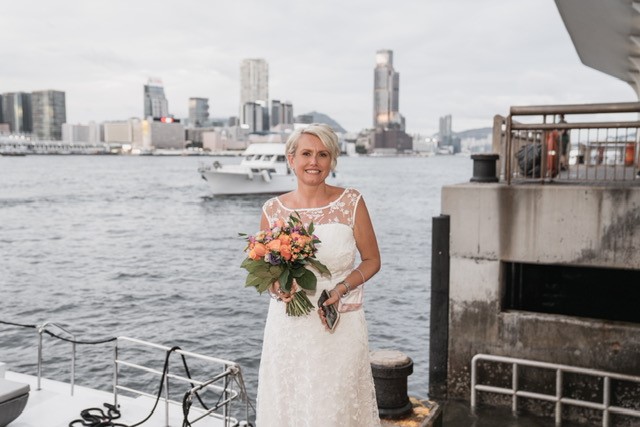 Tell us about your dress!


I ordered 3 of your dresses to be delivered to Hong Kong, they arrived beautifully presented. I chose the Azalia Midi Gown in Ivory which I felt was light enough for the HK weather (it's around 33 degrees / 95% humidity at the moment and I wanted to wear it all day and night). I was incredibly impressed by the quality and I felt the price was extremely good value. It was also painless to return the two I did not want for a full refund. I LOVED the dress and am very much looking forward to wearing it again when we have a celebratory party for UK family & friends when we return. Also as an "older" bride, I wanted simple and elegant but still bridal, this dress was perfect for that look.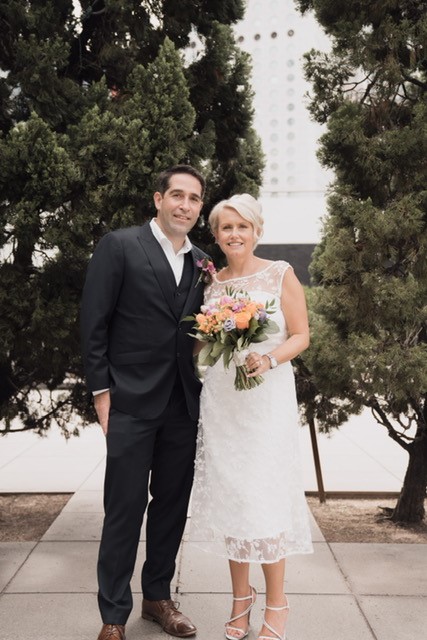 What advice would you give to future Brides planning a wedding?


Try not to stress, what will be will be! My wedding was planned in 10 weeks, I think that actually made it easier as we had to make decisions quickly. My make-up artist on the day said she had never been in a room of ladies pre-wedding who were all just enjoying the moment.. (The champagne probably helped!) :)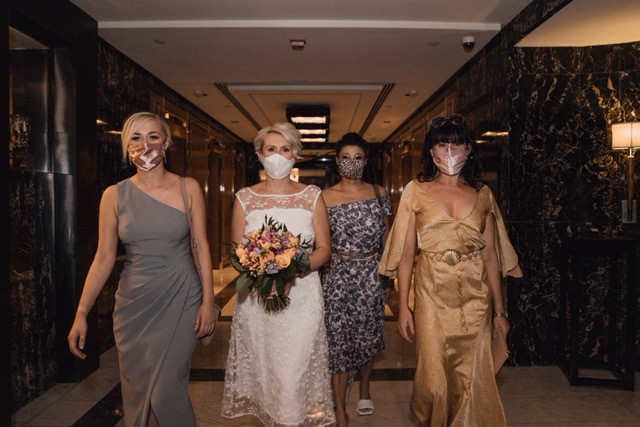 Any other fun facts you would like to share :)


As it is still mandatory in Hong Kong to wear masks, the picture above is what I call "Sex in the City - HK style"!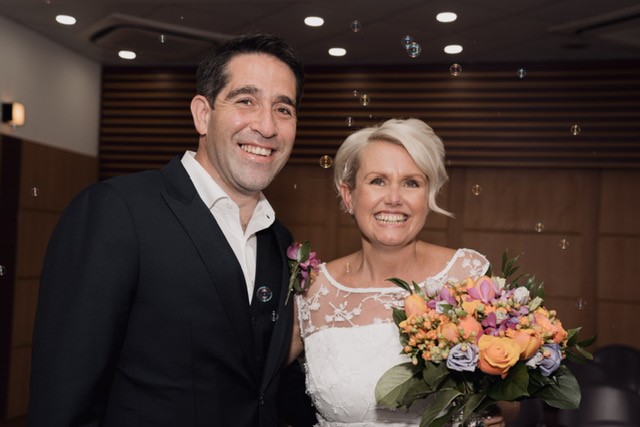 Credits:


Photographer- Anson Yip Images


Venue - The Aubrey


Boat - StarFerry


Wishing Jo and Tom a very happily ever after!


Shop Jo's look: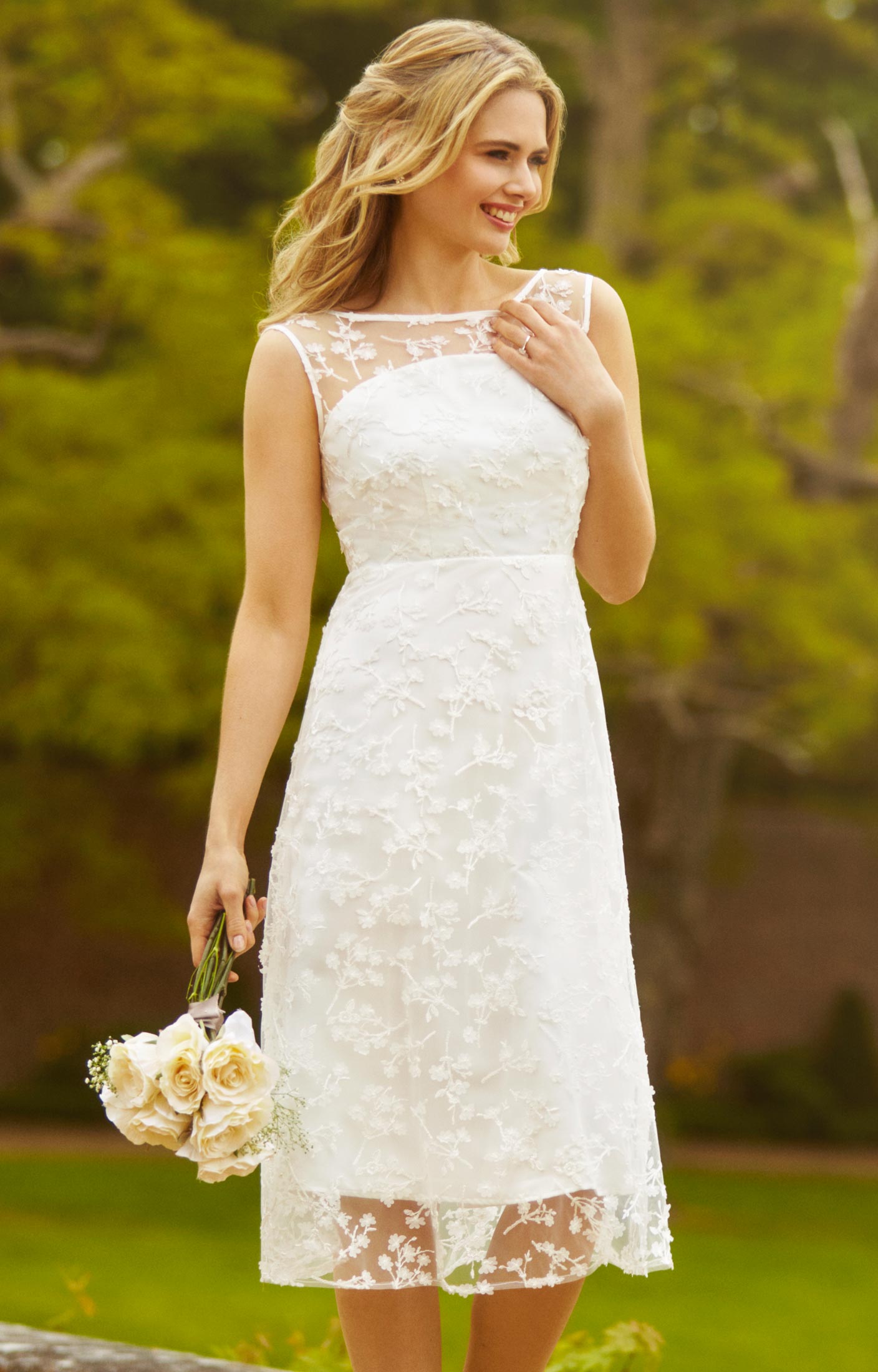 Jo opted to tie the knot in our Azalia Midi Gown which is just perfect for a more relaxed wedding full of celebrations and dancing! The shape is neat and flirty, adding an element of light-hearted femininity through a low V back and fitted waist with a suitably subtle flared A line skirt which reveals a slightly shorter lining. This design decision allows you radiance to shine through, in addition to the sheer lace panel neckline. The lace is delicately embellished with embroidery and applique lace, adding a three-dimensional aspect to this gorgeous dress!


Love the dress but would prefer it to be full length? We also offer it in a floor-sweeping gown version too.



Would you like to be a real bride featured on our blog? Contact customer services and they'll tell you how!


Tag us in your special day on social media:


Facebook , Instagram, Twitter or email our customer service team.

Shop our full range of wedding dresses >

Categories: #real-life-brides,
« Previous: A hectic start to a happy marriage (Oct, 1st 2021)
» Next: Just the two of us... (Oct 7th, 2021)
Blog Archive
Made in Britain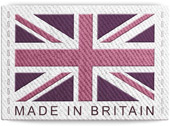 The Alie Street Collection is Designed and Made in Britain.
Read more...
Follow Us
Our latest tweets

Twitter
Our latest post
Want a little wardrobe update?? Annie is just PERFECT! Designed to flatter at the waist with a gathered crossover-neckline and fit-and-flare skirt in soft-stretch jersey. 3/4 length sleeves provide extra arm coverage to this neat knee-length dress. #aliestreetlondon #madeinbritain #britishfashion #britishdesign #eveningdresses #occasiondresses #occasionwear #beautifulprints #textiles #floralprints #independentdesigner #smallbusiness #bridalwear #styleinspo #ukfashion #styleblog #bridaldresses #lacedress #lacedresses #laceweddingdress #madeinengland #weddingdressideas #weddinggoals

Facebook