Made in Britain
"We pride ourselves on being a British heritage brand, with mindful ethics and impeccable style."


Every element of our designs, (from initial sketch, pattern-making, sampling and fitting) takes place at our studios in Surrey. We work exclusively with British manufacturers, having over many years developed a team of highly skilled and experienced UK partners, trusted to create the finest of garments with care, skill and precision.
Made With Love
We are extremely proud that the entire Alie Street Collection is made in Britain. We currently work with five talented garment specialists, each with a unique set of skills and specialist experience working with different fabrics such as premium jerseys, silks and chiffon.
As customers ourselves we care a lot about how and where our clothing is made, and so we think it important that our occasion wear brand is breathing new life into an industry which was once one of Britain's largest providers of employment, especially for women. And with many of the essential skills being centred round the industrial heartlands of Britain where unemployment is relatively high, we are investing in talent that may otherwise be lost.
Våra material
As excited as we are to bring you British design and production, we have now turned to British fabric mills for the development of some of our most beautiful jerseys, which you will discover across the Collection.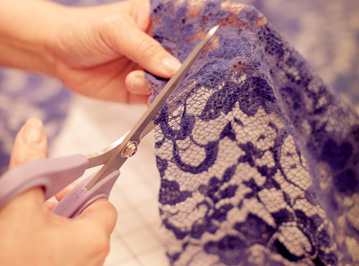 Vårt engagemang för att gynna brittisk tillverkning har sin grund i en sann önskan om att kunna ge dig en äkta och traditionell produkt, men viktigast av allt är att vi bidrar till att blåsa nytt liv i någonting fantastiskt och värdefullt, som höll på att gå förlorat i Storbritannien.
Alie Street – satsar på att ge dig vackra och lokalproducerade kläder.